Fred is a 10-year-old Labrador Retriever who lives in Mountfitchet Castle in Essex, England. Fred's dad, Jeremy Goldsmith, is one of the castle's owners, and Fred has spent his life wandering around the grounds, keeping an eye on everything.
In May 2018, Fred got a new job: he became the babysitter for nine orphaned ducklings found wandering around the castle's grounds.
When the staff at Mountfitchet Castle saw the ducklings wandering on their own, they were worried. Something had clearly happened to their mother, and the staff wasn't sure if the ducklings would be able to survive on their own. And so, they enlisted Fred to help.
"We brought the ducklings into the house as they are too young to fend for themselves, and Fred just took them under his paw – rather than his wing," Jeremy Goldsmith told the BBC.
Fred has a gentle nature, and he was happy to look after the ducklings. He often watches over the ducklings while they're napping, and at night, they all curl up together in his dog bed.
Orphaned ducklings adopted by resident dog at Mountfitchet Castle
Nine lives for nine ducklingsFred the resident dog at the Castle stepped up to the challenge when nine little ducklings became orphaned last Thursday. The ducklings' mum had disappeared and a member of staff found them waddling around the castle grounds alone. The team were very worried about the ducklings but Fred, a 10 year old Labrador, immediately took to them and has been babysitting ever since.
Posted by Mountfitchet Castle on Monday, May 21, 2018
Fred also lets the ducklings climb on his back, and he takes them for rides around the castle grounds!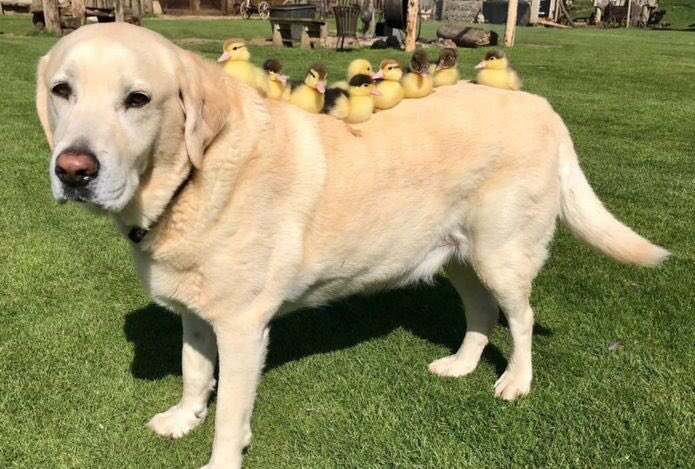 "He's got a lovely nature and has grown up around rescued animals," said Goldsmith. "They absolutely adore him and he has now resigned himself to being a stay-at-home dad looking after the nine baby ducklings."
In a few weeks, the ducklings will be old enough to fend for themselves, and Goldsmith thinks that Fred's baby-sitting duties will be done then. Once the ducklings are old enough, they can choose to either stay on the castle grounds or go off to find a new home.
The BBC wrote about Fred, and his story quickly went viral. Everyone on social media loves this good boy!
Fred's story has been picked up by many news agencies. He was also featured on popular Twitter account We Rate Dogs.
Fred's newfound fame doesn't seem to be going to his head. He's still the same relaxed, sweet pup that he's always been!
The ducklings aren't the only animals Mountfitchet Castle have rescued. They've also taken in two adorable little goats.
They also have many other feathered animals, including a peacock and a goose.
Mountfitchet Castle is doing great work looking after all these animals who had nowhere else to go, and they showed the same love and care to nine orphaned ducklings who needed help. These animals are all in great hands!
Please SHARE this with your friends and family.
Source: BBC